California-based tuning shop GTRS4 Wide Body for the BMW F82 M4 is celebrating their 10 year anniversary this year and to commemorate this occasion they are launching a special edition BMW M4. Dubbed GTRS4, the wide body M4 is made of full lightweight carbon composite and the design and development took place in-house.
The idea was first conceived on a blank sheet of paper where the Vorsteiner designers took into the consideration the previous historical wide body editions such as GTRS3 based on the E92 M3, to show a lineage in both Vorsteiner design language, functionality and performance.
The idea behind the car was to keep the original design lines while molding the wide body kit. Vorsteiner says it was not enough just to make the widest possible fender as it was also dictated by the ability of the wheel to turn while under load at high or low speeds.
Once the design was sketched and finalized on paper, the engineers 3D scanned the entire M4 body using Blue Light Laser Technology. With the 3D renderings, Vorsteiner digitally surfaced the new body panels and created CNC rapid prototypes to fit on the vehicle.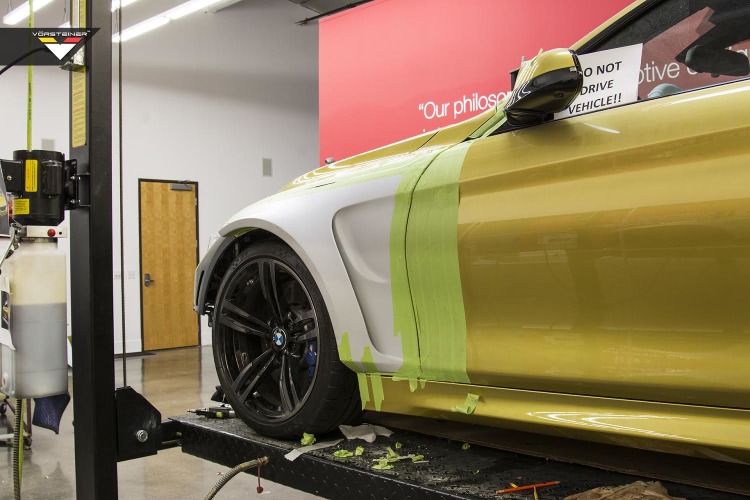 The most crucial step was the rear quarter panels in order to achieve the perfect contour. In order to effectively create, readjust and improve this shape, the Vorsteiner in-house master craftsmen utilized traditional clay modeling to achieve seamless and fluid proportions.
The design and engineering team worked in tandem to ensure the wider fenders and wheels were functional, therefore the air ducts were designed for optimal cooling towards the front brakes, while paying attention to aerodynamic ventilation for the inbound air to exit.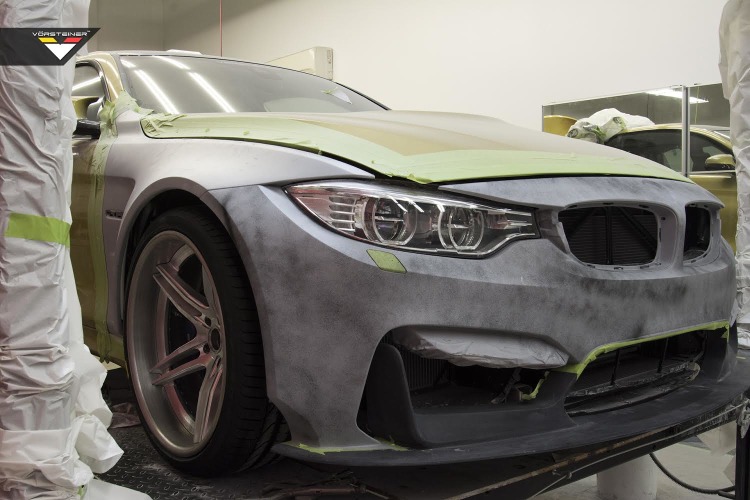 The front fenders have a total span of 4 inches while the rear quarter panels sit 7 inches wider than its original form. Quite a wide body for an M3/M4.
To round up the looks, 3-Piece Forged wheels in 20